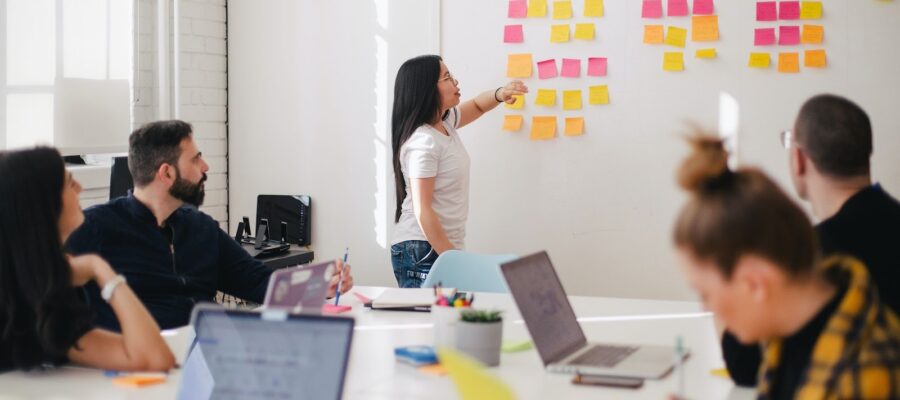 How to choose a monitoring and evaluation software
Introduction
The right monitoring and evaluation software can make a huge difference in the success of your projects. It can help you measure progress, find opportunities for improvement, and communicate with stakeholders. However, it's not always easy to choose the right software for your organization because there are so many options out there. That's why we've created this guide! We'll walk you through how to evaluate M&E solutions based on your needs and goals so that you can find one that will work well for your organization (or client).
Know your goals and use cases.
Before you start looking at software, it's important to understand what your goals are. You should also know the different use cases for monitoring and evaluation.
A use case is a description of how a user interacts with an application or system in order to achieve a goal or outcome. Use cases differ from goals in that they focus on specific activities rather than outcomes–and they can be used by multiple people within an organization who have their own unique needs. For example:
If I'm working at an NGO and want to analyze our data from surveys conducted last year so we can plan next year's strategy based on that data, then my use case would be "analyze survey results."
If another colleague wants to see how many people responded positively when asked about our organization's impact on local communities (so she can write an article about it), then her use case would be "analyze survey results" too!
Look for a solution that fits in with your organization's existing processes.
Look for a solution that fits in with your organization's existing processes.
Sometimes when organizations are thinking about what they want in an M&E software they begin to dream big. E.g.: What about something that could link in with our finance system? What about something that could integrate with our fundraising software so we have everything in one place? Or, Can we get rid of all our other tools we're using for data collection and participant tracking and find one software that will work for everything?
It's tempting to want to streamline all of your processes into one software, but the reality is it can be challenging to find something that fits all these different needs. Training and shifting all your teams over to a new tool can be costly and time consuming (and you might get a lot of push back), and it can send a lot of organizations down the route of looking at designing a custom software solution, which is a costly and bumpy road.
Try to think realistically:
– What tools are using that are meeting your needs?
– What tools could be serving you better?
– Which of your teams have the need, motivation and time to learn a new tool?
– What processes could be improved?
Here's an example of how Kinaki integrates with other tools.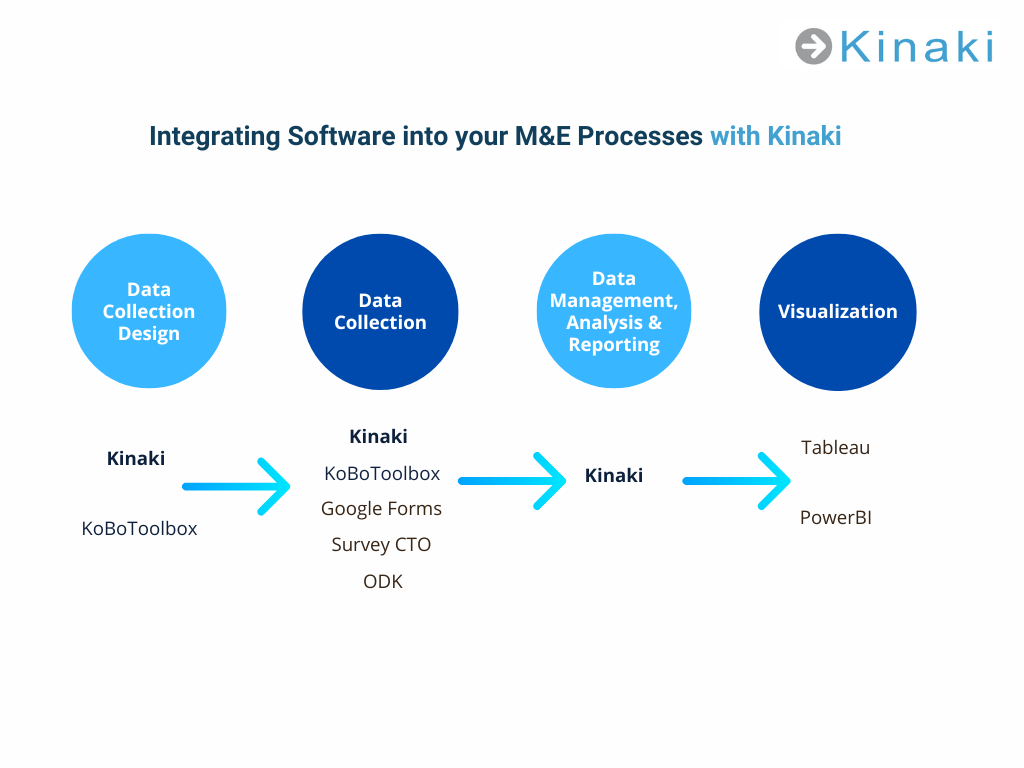 Choose a solution that scales with your needs.
If you're looking for a monitoring and evaluation software, consider choosing one that can scale with your needs. It should also be flexible enough to accommodate different levels of complexity in the data being collected, analyzed, and shared with stakeholders.
Choosing an M&E solution that can scale up or down as needed is important because it ensures that your organization will always have access to the best possible resources when it comes time for analysis.
Consider integrations with other tools you use.
You may want to consider integrations with other tools you use. E.g. Can you bring the results from past project reports into the new system? Can you import data from your data collection software (e.g. from Kobo Collect or SurveyCTO)?. This can help automate the process of data collection, analysis and reporting.
With the right software, you can analyze data, identify trends and make informed decisions about how to improve outcomes in your programs and projects
While monitoring and evaluation are often considered to be the same thing, they're actually two separate processes. Monitoring refers to gathering data on your project or program in order to assess its progress and identify any issues that may arise. Evaluation is a more detailed analysis of this information in order to determine what worked well and what didn't work so well, as well as how you can improve going forward.
Choosing the right software can help you do both effectively.
Consider the cost of your solution
Cost is an important consideration. Some organizations look at the cost of their software solutions and then choose the cheapest option. This can lead to problems later on when you realize that your software requires a lot of time and effort to make it work effectively or has hidden costs that were not included in the subscription.
Instead of just focusing on the subscription price when making your decision, look at all aspects of what each vendor offers in terms of features, support and training costs.
Make sure it's easy to use
If you're going to be spending a lot of time using your monitoring and evaluation software, you want a user experience that's clear and intuitive. There will be a learning curve when it comes to using any new software, but you should take the opportunity to test out the software.
Consider who on your team will be using the software and what features they will interact with. For those who may not be using the software often and just viewing reports or inputting some minimal data, is that easy and intuitive for them to do? For those on your team who will be using all the features and interacting with the software on a daily basis, make sure the software has learning resources and support in place.
Monitoring and evaluation software is important, but it can be overwhelming trying to find one that fits your needs.
Monitoring and evaluation software is a tool that can help you make informed decisions. But it can be hard to find the right one, especially if your organization is new to M&E.
To get started on your search, first think about how your organization will use the software. Does it need to include data collection? If so, how much data do you want collected? Would an app or web-based platform better suit your needs? Will there be multiple users accessing this information (e.g., staff members across departments)? These are all questions worth considering before making any purchases or commitments.
Conclusion
We hope this article has helped you get a better sense of what to look for in a monitoring and evaluation software.
If you're interested in learning more about Kinaki, we'd love to chat. We talk to organizations every day about their monitoring and evaluation needs, we learn about what their goals are and use cases and help them determine if Kinaki is a good fit. Reach out to set up an informal introductory call, we love discussing all things M&E! community@kinaki.ca
Was this article useful? What other considerations are important when considering a M&E software?
Learn more about Kinaki:
Check out the latest articles on Kinaki: