Using Data Import, Data Collection activities will take place outside of Kinaki.
Instead, you can use the Data Collection tab to upload (import) a file with a specific dataset. This will allow you and other project administrators to use this dataset for analysis with the designed data collection tool.
To begin, visit the Data Collection tab under Collect Data. From this page, you can select a file to import.
If you have already included a set of Questions, these will be populated on the Questions tab. If not, you will have the opportunity to include the questions (with responses limited to those included in your data) with this Import process.
Select the "Import Data" button to upload the file. You will be prompted with three file formats. For this process, select Kinaki Data Format. 
You may also choose to select "Common Data Format" for KoBo Toolbox data. To learn more about this process, visit the Knowledge Hub articles on KoBo integration.
Select the language of your file. Only languages added to your project details will be included with Kinaki.
Once these two details have been selected, you will be prompted to select or drag-and-drop a file for upload.

The import process begins by determining any new or incompatible questions.
Incompatible questions often relate to table format, and you can select which items to include in the upload or select Cancel to stop the upload.
If there are no incompatible questions, Kinaki will proceed to step two: New Questions.
In this window, Kinaki will any new questions added to your data collection tool. Select each question you wish to include and choose Save Selected – or choose Save All Questions – to proceed.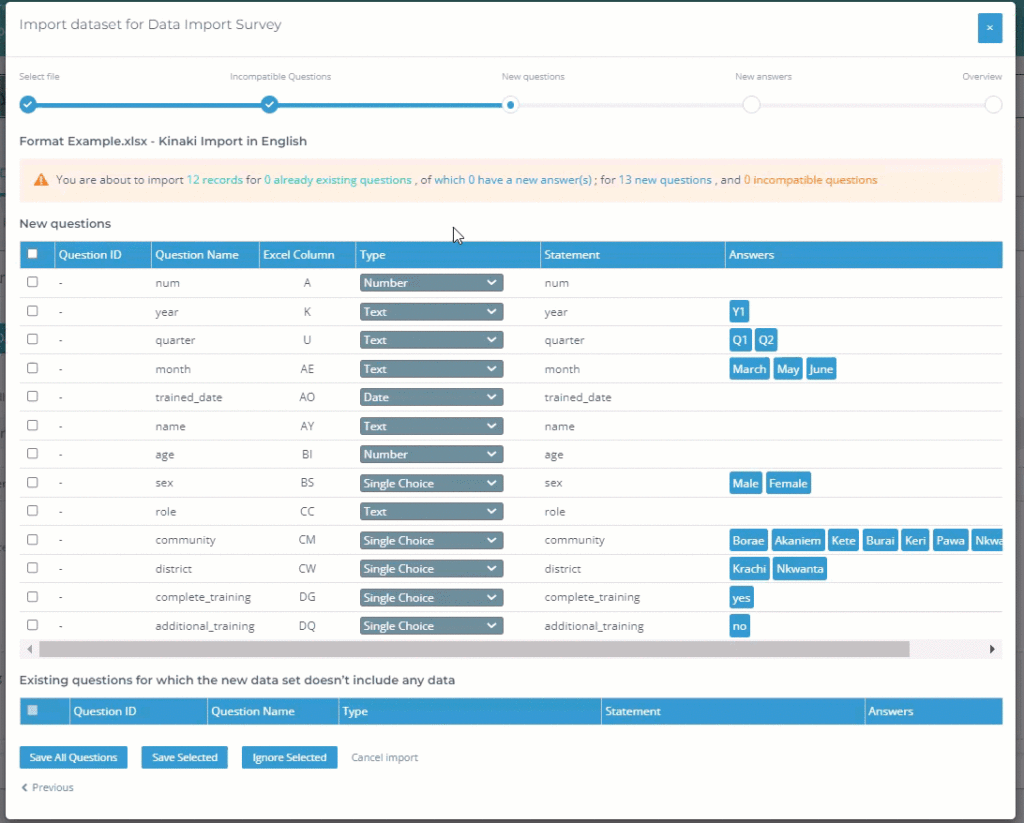 Next, Kinaki will save the questions added to your data collection tool. From here, you can follow along a similar process to select any incompatible or new questions. This process may be skipped over for empty data collection tools.
Similar to above, it may be relevant to cancel the process and revisit the format of your file.
For imported answers, only responses that are included in the dataset (and not all potential answers) will be imported. Editing question details on the Questions page, or importing another dataset with those responses, will allow you to add any missing (unreported) entries.
The final page will show an Overview of your import. Selecting the eye icon will allow you to review an individual response (as represented by a row in the Excel sheet). Select Save Records to finalize the process.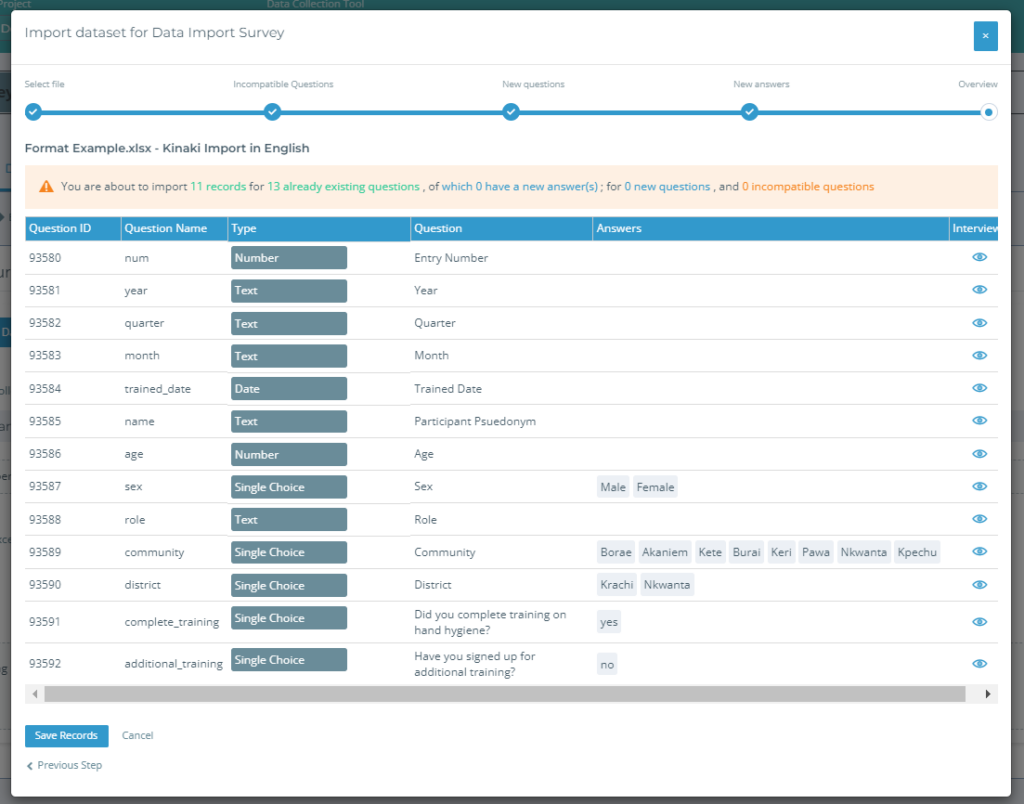 Once you have imported a dataset, you will be able to review and submit this data on the Data Management page.
Remember: for each set of imported data, you will be prompted to include any new or incompatible questions and answers. Be sure to maintain a similar format and question progression within your file across different datasets.
If you are struggling with the import process, do not hesitate to reach out to the Kinaki team for support.