Highlights: Latest Improvements and Fixes (December 2022)
Importing questions and data
Ever wonder what the original file you uploaded looked like? Now when you import data and questions to Kinaki, it saves the original file uploaded to Kinaki. This helps in case you want to return to the original file later to see the state of data and questions at the time of import.
Also, each time you click "Submit Data for Analysis", Kinaki archives the questions as an Excel file so you can see the questions at that point in time.
You'll see the archives on the Data Management page under Manage Datasets > Submitted Data Sets.
Program Reports
If you've found yourself wondering how to update results in a Program Report there is a new "Recalculate results" button to make this more intuitive. (Remember: to update calculation in Project Reports, click on "Save Indicator" on the Analyze Data page.)

Kinaki Online Forms
More file type options for the "Picture" question type: You can now upload a PDF file, in addition to image files, when you have a "Picture" question in an Online Form.
Analyze Data
You'll now get a warning to change your calculation if you use a numeric calculation when you shouldn't.
Question Type
To prevent confusion during data analysis, you can no longer change the Question Type for questions with data already collected (this way a question will not be accidentally assigned an incorrect question type). If you find you do need to change a Question Type for a question with data already collected, rename the original question and create a new question with the original name.
If you are using Kinaki Online Forms for collecting data, remember to include the new question in the form as well. Also, if that question is being used for the calculation of an indicator, remember to update the calculation on the Analyze Data page.
Other Updates and Fixes
To increase security, resetting your password and changing your email now requires confirmation using an email code instead of using security questions.
We've improved the complexity of calculations on the Analyze Data page. A higher number of questions in brackets can now be created to calculate those really complex indicators!
Various improvements have been made to the data import process.
We've introduced Answer IDs which are used for matching data during data import (similar to the unique Question ID for matching questions).
Data Collection Tool Updates (August 2022)
We've been making some changes!

If you haven't seen it yet, you'll notice some improvements the next time you go to create a new Data Collection Tool.

Under the 'Collect Data' tab, you will be asked to select the data collection type:
(Don't worry about the selection too much, it can always be changed later!)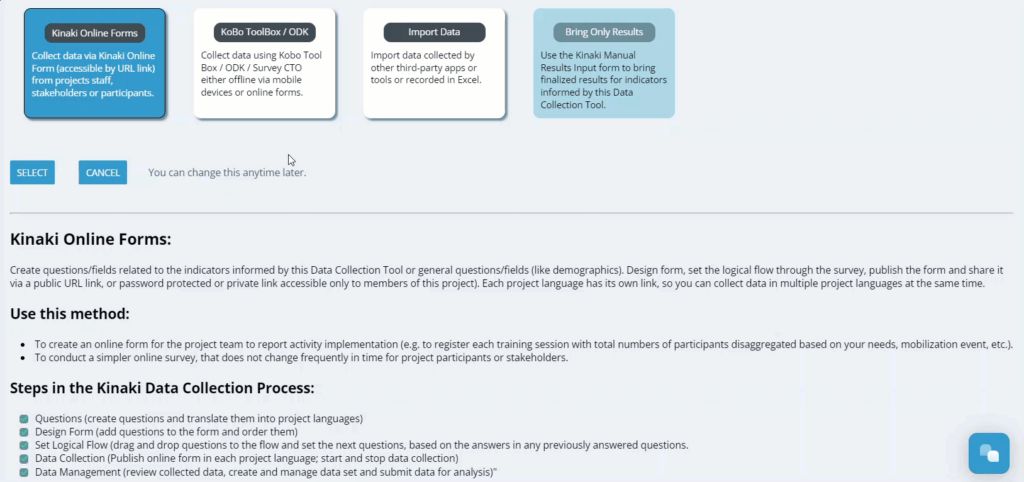 When you make your selection, you'll be guided through specific steps to set up your Data Collection Tool or get your data into Kinaki.

In addition, this selector will appear for all existing Data Collection Tools for which the method was not selected yet.

These changes are aimed to make Data Collection Tool design more streamlined and specific for the different ways to collect data.


Program Features (June 2022)
Did you know you can use Kinaki to aggregate data across multiple projects and track results across your organization?
With the Program features you can set up dashboards to aggregate results across multiple projects, create reports for all projects supported by one donor, track global performance indicators and much more. Learn how to use the Program features by taking the Program Demo Tour.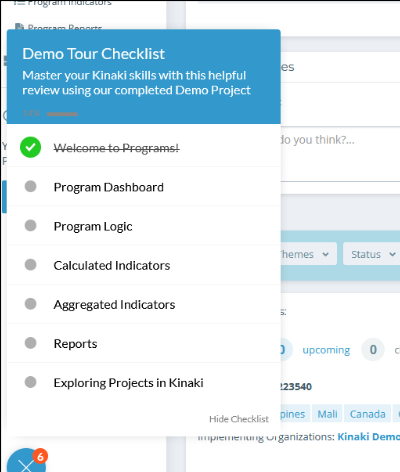 Make sure you're getting the most out of the Program features by checking out our latest learning tools:
Why use the Program Features?
a. Organize your portfolio of projects, for example by donor, theme or country.
b. Measure standard or global indicators across your projects.
c. Make reporting on multi-country and multi-partner projects easier by creating a Program to aggregate data across all the projects.
Resource Centre (May 2022)
Did you know we update the Resource Centre regularly with new content?
In the 'Help & Support' section you might be interested in some of the latest articles like how to use Kinaki with external apps, such as Google Translate and KoBoToolbox.
Log-in and click on "Learn Kinaki" on the right hand side of the page to open the Resource Centre. There you'll find a Navigation tour, all the Help & Support articles, and Video Library.