On the Monitoring, Evaluation and Learning (MEL) design page you can set up the data collection tools (DCTs) you are going to use in your project.
(For each indicator (we'll get to this more on the Indicators page!) you must have an assigned DCT. You need to ensure you've planned out a way to collect the data to help you measure your project.)
On this page you can add new DCTs, edit and delete them. Just be sure you really want to delete when you do- your data may be permanently deleted! All these functions are available to you as an Admin, but as a Member you are able to view the DCTs but not add, edit or delete. (Unsure about your User status? Check out your My Account page, as well as User Types and Rights.)
Watch the video below for a detailed overview of MEL Design and Data Collection Tools in Kinaki:
MEL Design Page
On the MEL Design page you can select from the following options: Create DCTs using the Wizard, create them Manually, or skip this step and Create later.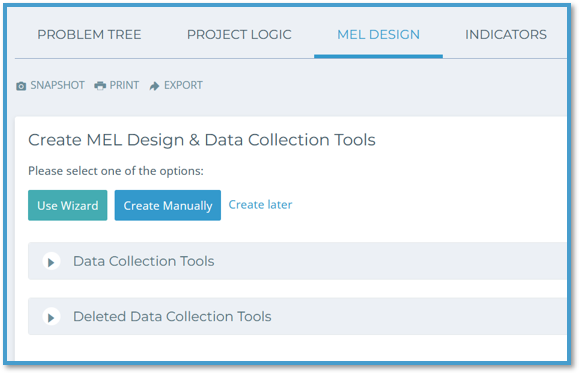 When to select "Use Wizard": The Wizard will help you match data collection methods to data sources and then Kinaki automatically creates labels for these DCTs. It is helpful for a project that is in its early stages.
When to select "Create Manually": Creating DCTs Manually works well if you have already collected a lot of data for your project and know all the data collection methods for your DCTs.
When to select "Create Later": Finally, you can also skip this step and create your DCTs later if you are in the Project Design stage and not ready to think about how you will collect your data.
Each of these options are reviewed in more detail in the video above.