Custom Fields are a way to incorporate additional project details into your organization.
These fields can be helpful to track key thematic elements of your project, and to provide comparative values at the Program level.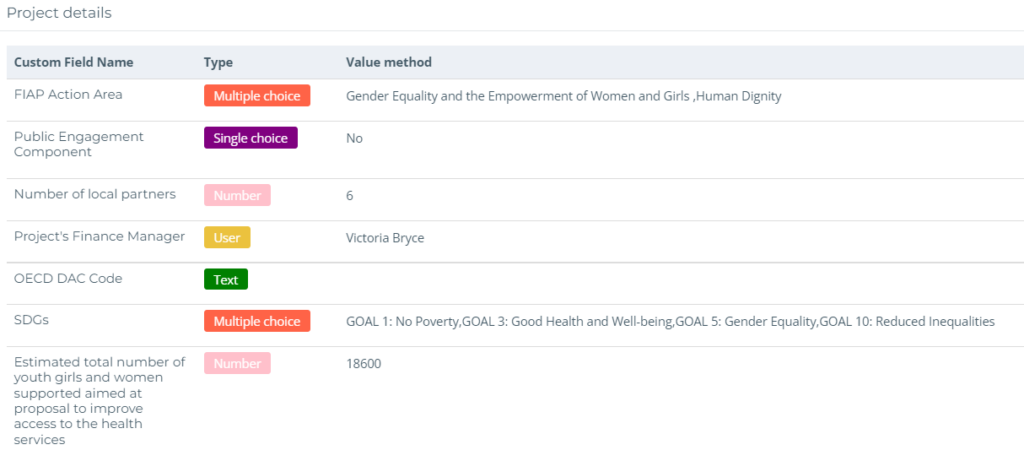 Custom fields are values are customized to your needs, and provide a greater depth of information on your project beyond standard project details.
Custom fields are specific to each organization and cannot be shared between different organizations. However, custom fields will appear in shared projects.
To add a custom field to your organization, go to "Organization Settings". Select the "Manage Custom Project Fields" tab, and choose the "+ Add New Custom Fields" button. Enter the name of the new custom field, and select a custom field type. You may also enter optional instructions.

For Single- and multiple-choice custom fields, add a series of responses by choosing "Add Answer". This will create a list of optional entries for your custom field.
For a Text and Number custom field, users will enter formatted values.
For User, Project Administrators will select a single choice from a list of Project Members.
For Labels, add a series of relevant tags of themes.
Finally, choose the "Custom Field Visibility". To include in all projects, select "All Projects under Organization". To select specific projects, choose "Selected Projects" and select the check-box next to the name of the chosen projects in your organization.
Select "Save" to complete the custom field.
To edit custom fields, select the title of the custom field. From here, you can change the name, custom field type, and which projects it is included under.
To delete a custom field, select the red "X" next to the title. This will move the custom field into "Deleted Custom Fields" section at the bottom of the page. From here, you can restore any deleted custom fields.
To view custom fields, visit the Project Dashboard. Under Project Details, you will find a list of relevant custom fields that have been included with your project.
To add project-level values to your custom field, go to Project Settings. From here, you can edit their details using the "Custom Fields" tab. Select "edit" in the "Action" column to add or update the entry.

To quickly change between projects when adding values, use the Project Selector at the top of the page. You will remain in "Project Settings", but now in the new project.
Custom fields can expand the options available for Program Indicators when calculating from project details. For our Demo project, we have included common values, such as the total number of local partners across our three projects. To learn more, visit the Demo Program Report.