On the Organization Settings page, you can manage the details of your organization, as well as the projects and users in it. This page is only accessible to Organizational Admin users.
You can find it through the 'Organization' tab in the Main Menu on the left-hand side of the page and click on "Organization Settings".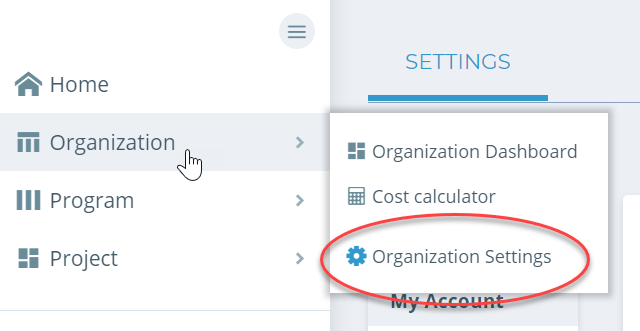 ► Editing Organization
To edit the name, country, or description of your organization, use the "Edit" button, make the change and confirm using the "UPDATE" button.
► Managing Projects
In your Organization Settings, select the "Projects" tab. This tab contains details of the projects in your organization. For additional settings, select the name of the Project to visit the Project Settings.
You can add a new project using the "+ Project" button above the list of the Projects. If your organization is paying for Kinaki, you can add an unlimited number of free projects. If you are using the free option of Kinaki, you can only add 3 projects. For more details visit Accounts and Subscriptions.
Select the "SHARE" button next to the project's name to connect your project to another organization. In the pop-up box, enter the name of the Organization, and select the "Allow Edit" box to allow project admins from the other organization to make changes to your project details.
To duplicate a project, select the "Projects" tab and select "Duplicate" next to the project you want to duplicate / copy. You can also duplicate projects from the Project Settings.
To delete a project, select the "DELETE" button next to the project name. In a dialogue box, enter the name of the project and select "Confirm".

WARNING: Deleting a project will lead to a permanent loss of the data. Please ensure that you have all the necessary information backed up before you delete.
► Managing a Program
To manage your Programs, select the Programs tab.
To add a Program, select the "+ Add Program" button. To learn more visit the Program Creation page.
For more options, select the title of your Program to visit the Program Settings page.
► Video: Settings Tutorial
Check out Chapter 2 of this video to learn more!