The Questions page for Online Forms contains many of the same features seen in other methods.
For Kinaki Online Forms, it is our recommendation to follow these steps and generate a new survey or form.
There are two ways to bring questions to a Kinaki Online Form: 1) Add Questions 2) Import Questions
1) Add Questions Manually
Before adding a new question, make sure that you are working with the correct Data Collection Tool (DCT). The Data Collection tool is selected in the DCT Selector on top of the page (next to the Project selector).
In this section, you will learn how to add questions manually, one by one.
To add a question, click on the button "+Question" at the top-left of the question table. Alternatively, to add a question under a specific indicator, click on the indicator name in the questions table.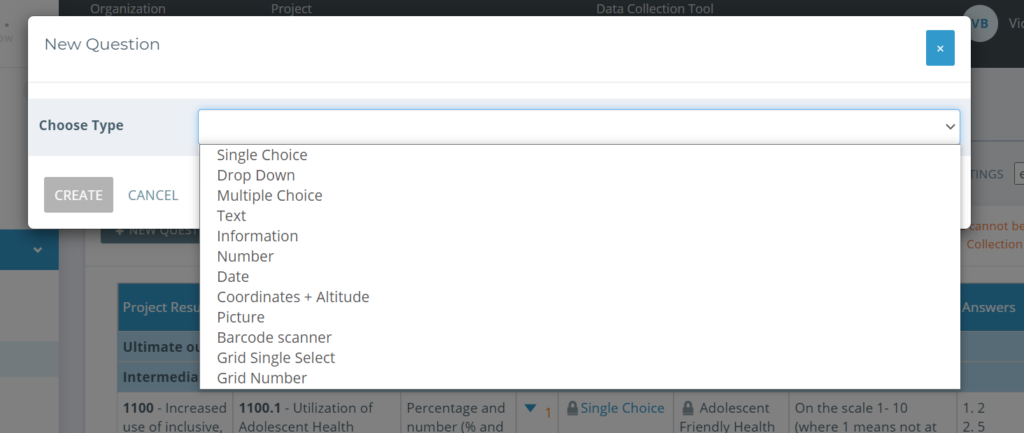 In the pop-out box, select the question type and fill in the details of the question. The fields "Question", "Unique Question ID" and "Question Name" are required fields.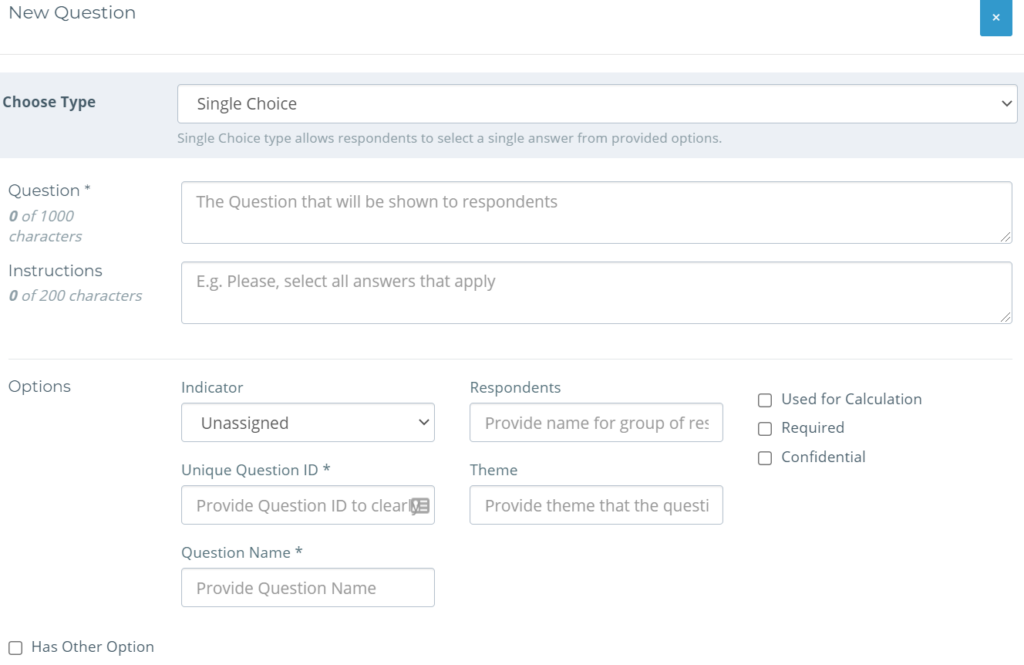 Once you have populated the details for your question and selected "Create", it will appear in your questions table – either next to the indicator (if you connected it to one in particular) or at the bottom of the table under "Questions not connected to a specific indicator".
To learn more about Questions and Question design, visit this page of the Knowledge Hub.
2) Import Questions
Alternatively, it is possible to import questions to use with an Online Form in .XLS format. This can allow use of a survey or form designed with services such as KoBo Collect, ODK, or Google Forms to be launched with Kinaki for easy online data collection.
This can be a helpful process if you are moving a previously designed data collection tool to Kinaki.
To import questions to Kinaki, select the Import button at the top of the Questions table.
This will open an area to upload a .xlsx file to Kinaki. Select a file that contains the questions you wish to import. This often follows a format where questions (and possible responses) are divided by columns, as well as another row which described the question format (for example, number, text, single-choice, etc.). Kinaki will use these columns to discern the contents of each question.
As you import your file, Kinaki will note any duplicate or incompatible questions. This may only occur if you have an incorrect format or existing questions in your data collection tool. Note any discrepancies and use this information to either continue with the import or make changes to your file/questions.
Once Kinaki has uploaded a file, you be prompted to select a language. Select from the list of available options and continue to finalize your import process.